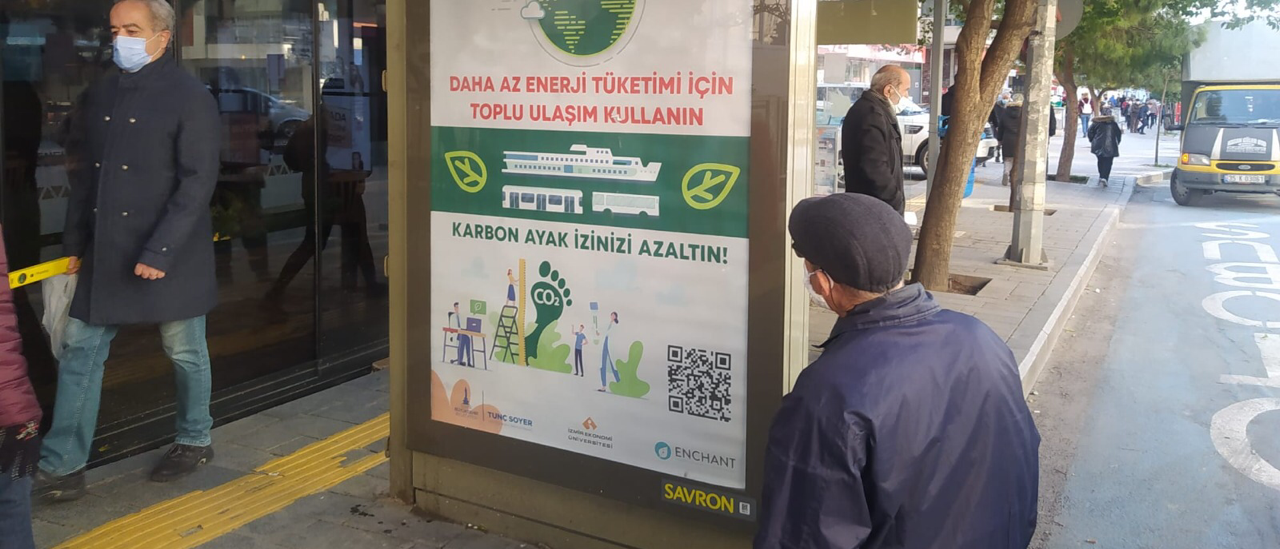 ENCHANT interventions are reaching millions
ENCHANT has now completed several intervention implementations across Europe – reaching millions of people. Read on to see how our partners in Turkey and Romania did so.
Turkish interventions
In Turkey, ENCHANT interventions are implemented in Izmir, where Izmir University of Economics is the academic partner in charge, and the implementation partners are Gediz Electricity Distribution Company and Izmir Metropolitan Municipality. Currently, the interventions reached an experimental group of more than 3 million citizens.
Through the interventions that are being implemented in collaboration with Gediz Electricity Distribution Co., ENCHANT aims to identify if information provision causes a behavioral shift in households towards lower electricity consumption, in addition to assessing if the communication channel and sender affect the impact.
The intervention carried out in collaboration with Izmir Metropolitan Municipality was conveyed through information provision on climate change and environmental issues. Various messages were displayed at public transportation stops in Izmir, including tram, metro, bus and ferry. The interventions aim at assessing the impact of these messages on the usage frequency of public transportation.
Romanian interventions
In Romania, Babes-Bolyai University is ENCHANT's academic partner. The Romanian intervention involved two categories of consumers from the same energy provider – Electrica Furnizare SA.
The population in the study was divided in two, making it possible to identify variations across online and offline consumers. Electrica Furnizare is the electricity provider with the largest market share in Romania, the number of people using online instruments to manage their relationship with the provider is however only around 500,000 households. The second group consisted of the consumers with a traditional/offline communication with the electricity provider. The number of consumers reached here was much larger: approximately 2.8 million. They typically use the company's local offices and the invoice as the most important communication channel with Electrica Furnizare. A selection of these interventions will be communicated to the groups: Information including Simplification with an individual monetary benefit component, Information including Simplification with an individual value-based framing, Information including Simplification with a collective value-based framing, Social norm with an altruism component.
The next step is to see if the most impactful of the four interventions implemented in the online context can be upscaled to generate comparative effects at the level of the much larger offline population.
The interventions in both Turkey and Romania are in the roll-out process, and we are excited to see the results soon!
---