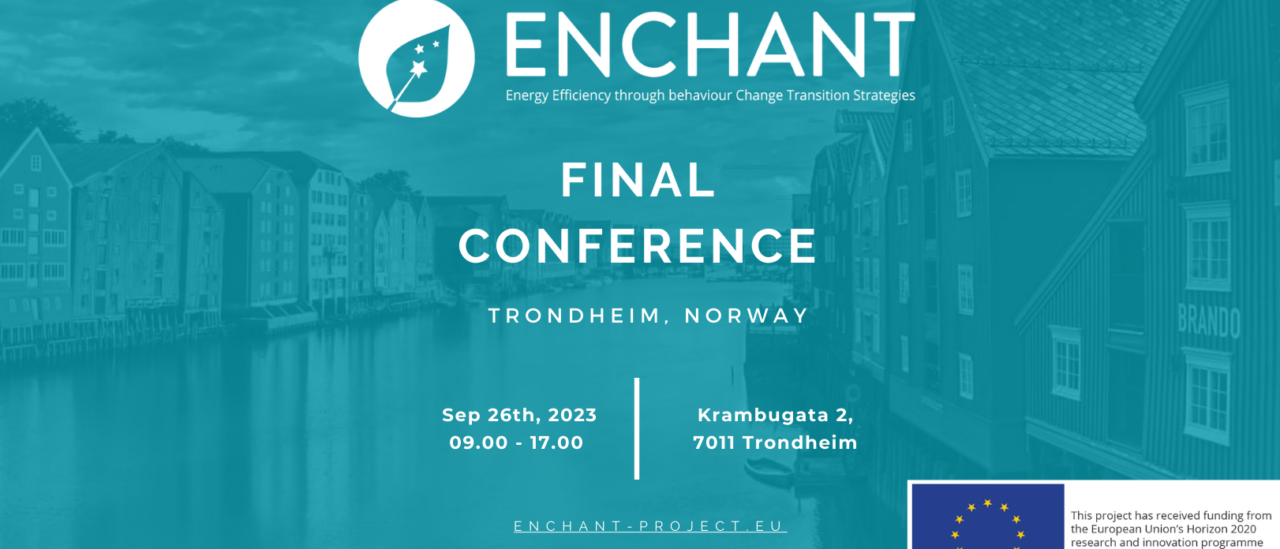 Enchants Final Conference – Trondheim
Mark your calendars! Save the date! On the 26. of September the Horizon-project Enchant is hosting its final conference in Trondheim.
And guess what? You're all invited!
The day will include an internal part where we go through project-relevant topics and discuss policy, communication, dissemination etc. and have paper presentations. Later in the day we invite external participants, and have keynotes, a panel discussion with user partners and academic partners, and present and discuss project findings from other projects.
Download program for the day(s).
Program ENCHANT conference 26th of September – Project partners only
09:00-09:20 Project & Relevance – Christian Klöckner, NTNU & Guri Bugge, Viken 
09:20-09:45 Platform & Feedback – Kalyan Ram Ayyalasomayajula, SIN
09:45-10:00 Numbers reached & Numbers responding
10:00-10:15 Break 
10:15-10:30 Main outcomes & ENCHANT policy recommendations – Andrea Kollmann, Energieinstitut Linz & Giuseppe Carrus, Università Roma Tre
10:30-11:00 Main outcomes. Comments and open discussion 
11:00-11:15 Break 
11:15-11:25 ENCHANT a-z, what, where and who – Berit Therese Nilsen, NTNU Samforsk & Martin Norderhaug, Viken
11:25-11:35 Netnography & Re-analysis of existing data, Melania Lese, UBB
 11:35-11:45 Publications & Dissemination plans – All WPs 
11:45-12:30 What is still left to do in the project? Comments and open discussion 
LUNCH
---
Open session – For all Enchanting people
14:00-14:45 Keynote – Platform presentation – Christian Klöckner, NTNU
14:45-15:00 Pilot presentations – Benjamin Kirchler, Energieinstitut Linz
15:00-15:15 Break 
15:15-16:00 Panel debate: Clean energy transition in a time of crisis; challenges, solutions,and responsibilities?
16:00-17:00 Invited speakers from other project 
CURE – Mehmet Efe Biresselioglu, Izmir University of Economics, on Resistance

 

DIALOGUES – Andrea Kollmann, Energieinstitut Linz on CALs

 

GreenTeam – How to continue the work? Guri Bugge, Viken
Open mic for great project ideas
Our final conference takes place at Krambugata 2, 7011Trondheim. You enter the building from the main entrance. We will put up a sign to lead the way when you are inside. 
Partners: Please register your arrival here.
Should you have any questions, don't hesitate to contact Berit ([email protected]) or Martin ([email protected]).
See you in Trondheim for an Enchanting day!