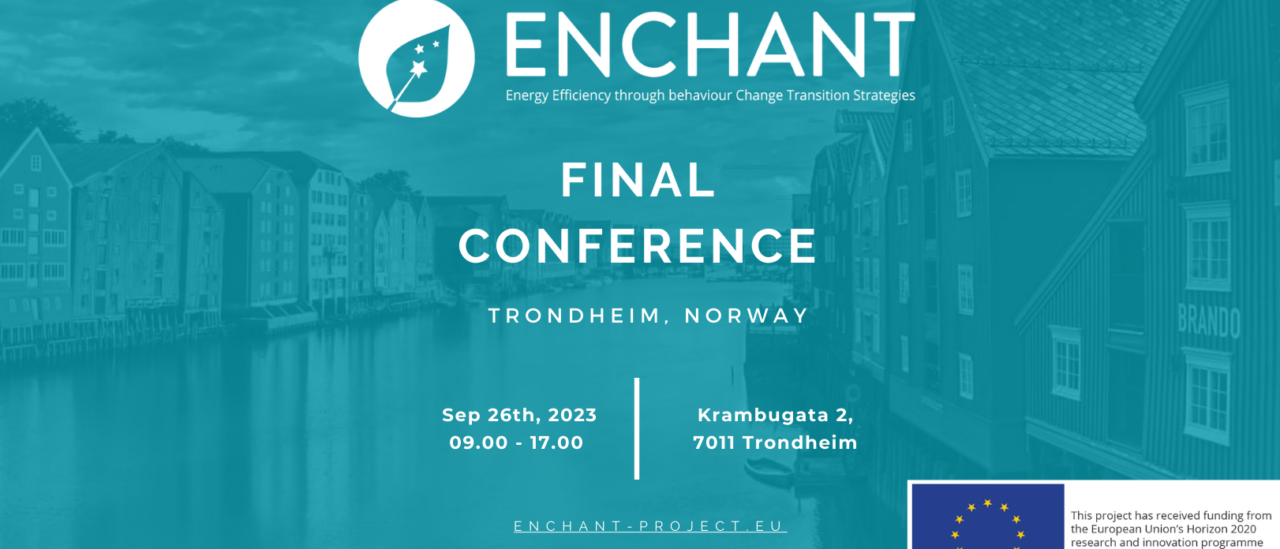 Get an Enchanting start to your visit in Trondheim
Are you arriving in Trondheim early and want to make the most of your stay? Then please join the open session of ENCHANT project's final conference, 14:00-17:00 on the 26th of September at the conference venue (DIGS).
Researchers and user partners from Norway, Italy, Türkiye, Germany, Romania, and Austria will present findings and discuss topics with a broad disciplinary range and relevance – inviting all enchanting people to attend.
What do you get out of it?
You will be one of the first to see our newly developed "Enchants EnergyWizard", hear about the project's different pilots, listen in, and participate in a panel debate, and get information about other exciting projects. If you have a great project idea and are looking for partners, you should attend the "Open Mic".
Open session
14:00-14:45 Keynote – Platform presentation – Christian Klöckner, NTNU
14:45-15:00 Pilot presentations
15:00-15:15 Break
15:15-16:00 Panel debate: Clean energy transition in a time of crisis; challenges, solutions, and responsibilities?
16:00-17:00 Invited speakers from other project
CURE – Mehmet Efe Biresselioglu, Izmir University of Economics, on Resistance to energy transitions
DIALOGUES – Andrea Kollmann, Energieinstitut Linz, on Citizen Action Labs
GreenTeam – Guri Bugge, Viken County, on How to continue the work?
Open mic for great project ideas
Our final conference takes place at Krambugata 2, 7011 Trondheim. You enter the building from the main entrance. We will put up a sign to lead the way when you are inside. 
See you in Trondheim for an Enchanting day!