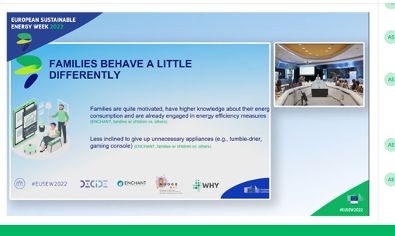 Enchant in Brussels: Families behave a little differently
Two concrete policy recommendations stemming from ENCHANT research were mentioned during the debate at European Sustainable Energy Week 2022 in Brussels.
Young people are more often likely end up in energy poverty than others. They often have short term job contracts and less money to refurbish. They are also less likely to own their own house. Employment, access to housing etc. should all be included in policy making.
When planning campaigns and communication outreach – targeting households with children is wise. Younger people are often willing to go further with the renovation standard. They will be living there for a longer period of time – and desire higher standards. They often do stepwise renovation and communicate in different channels than elder people.
By talking to "Youth" everyone will understand the message. Adults often don't want to admit they don't know or don't understand what's being said – by talking "simple" for the youth to understand, everyone will understand.
The use of grumpy teenagers as a proofreader is underestimated. They are not nice and brutally honest – every attempt to bullshit will be debunked.
An important point is type of communication, both the message and the channel.